Details

Category: Woolrych Computer Services Ltd
About us - Woolrych Computer Services Ltd
We specialise in providing personal service, with reliable after sales care.
Established in 1998 Woolrych Computer Services Ltd is now a well established computer sales and consultancy business, backed by over 30 years of experience in IT. In April 2003 we became a Limited Liability Company.
If you are looking to upgrade, replace or purchase new computer equipment and would like sensible advice tailored to your needs then we can help you. Advice is free and we will be happy to quote for your needs. We build PC's to your specification from the best quality components.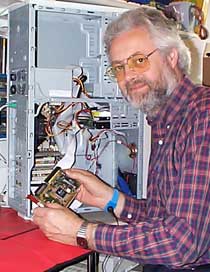 All too often sales staff tend to confuse their customers with computerspeak, our aim is to de-mystify computers and talk plain English, we are not out to baffle you with science, just to give you unbiased advice before you decide what to purchase. Everybody's needs are different. Solutions do not come off the production line.
After the initial excitement of the new purchase, clients are often left on their own to struggle with unfamiliar electronics or they feel confused by the complexities of new programs. At WCS we offer you full support.
Delivery and installation of your computer are part of our service. We can supply just about anything in the computer line from networks to printers, modems, scanners, TV cards, digital cameras, software etc..

We recognise that most people want a personal service. To this end we are geared up towards dealing with your problems at home or in the office at prices you can afford. We will, wherever possible, come out to you at your home or place of work.
All of us, even the most experienced, need to update our skills as new equipment and new software comes on line and the Internet gets more and more complex. We offer a personal tuition service. We give you the opportunity to acquire the skills you need in a non-threatening way, on your PC, at your home. You learn at your pace not the rest of the class! Years of teaching experience has shown us that people learn better on an individual learning programme.
For small business users working from home, we offer a computer and network installation service, maintenance of computer equipment and peripherals (printer, fax machines - anything connected to a PC), website design and internet connection.
We offer onsite as well as workshop repair and maintenance facilities.
Whatever your needs or problems - get in touch with us.
Prices and specifications are subject to change on a regular basis because of the volatile nature of the PC market.
If you are not sure what the latest prices are please ask, phone or e-mail for advice.
Details

Category: Woolrych Computer Services Ltd
Frequently asked questions (FAQs)
This is a selection of the frequently asked questions by our customers, together with the appropriate replies.
If your specific question is not included, please use our response form or send us an e-mail to: This email address is being protected from spambots. You need JavaScript enabled to view it.
We will respond quickly and do our very best to help. 
Please do not expect us to solve your problem for free over the phone or to offer support on a product that we did not supply without charging for it..
What are your charges?
Our standard onsite labour rate is £40.00 inc VAT for the first hour and then £20.00 inc VAT for each additional half-hour. Our minimum charging period is one hour on site and half an hour in the Workshop.
Workshop charges are £30.00 + VAT per hour with a minimum charge of £20.00 + VAT
There are some fixed price services such as :
PC MoT £60.00 (inc VAT)
Reload operating system from £60.00 (inc VAT), backing up and restoring data is extra.
What are your hours of work?
Generally we work a 9:00 to 5:00 day Monday to Friday. Work can be arranged outside normal office hours. However, we reserve the right to charge extra for evening and weekend work.
What happens if the engineer is unable to repair my computer?
In such a case, our NO-FIX-NO-FEE policy means that there will be nothing to pay at all.
Is there a callout fee to pay?
No. We do not charge a callout fee of any kind.
Do you carry out workshop repairs?
Yes. We often find that it is better to effect repairs to some systems in our workshop. This can often be completed quicker than visiting your premises. We are happy to advise you on the best course of action.
Workshop charges are £30.00 inc VAT per hour with a minimum charge of £20.00 inc VAT
Do you give telephone support?
Yes. Quite often we can sort out problems over the phone. If you still have internet connection we can take control of your PC (with your permission) to try to resolve the problem. This is charged for through PayPal at £30 per hour inc VAT. (you do not need a PayPal Account). However, do not insult us by expecting us to fix your computer over the phone for nothing!
Do you charge for travelling time?
No and Yes. Within the Devizes area we do not charge for travelling or if the engineer happens to be in your area. However, we do charge for travelling time for distances over 15 miles from Devizes. This will vary depending on the distance from Devizes (or from where the engineer is located). Travelling time is charged at £20.00 plus VAT per hour. Please ask.
What is your response time?
We aim to respond to all queries within 4 working hours (excluding messages left on voicemail or answering machines). Generally we will arrange to visit your premises within 24 hours. Instant callout does incur a higher charge.
Is your work guaranteed?
Yes. Our work is fully guaranteed. All components are supplied new (unless specified otherwise) and covered by a full twelve months parts and labour warranty. Fixes are guaranteed for one month, provided that there have not been any changes, updates or downloads made to the equipment since our fix that could have caused the problem to reoccur. In simple terms - you mess with it, its your fault! And yes we can tell what you did.
Can I limit the job to one hours' work?
Yes. You can choose to limit the booking to one hour and the engineer will do his very best to complete the work within the agreed time. However, if in the opinion of the engineer the work will take longer and you choose not to have the work done, then a charge is made for the time used so far. But don't blaime us if it still doesn't work - that was your choice!!
If the repair takes only forty minutes, will I have to pay for a full hour?
Yes. Our minimum on site charging period is one hour.
Following the initial hour, any additional time is charged in blocks of 30 minutes.
What methods of payment do you accept?
We accept payment by cash, debit or credit cards, cheque, BACS and PayPal. Payment is due on completion of the work unless specified by prior agreement (account customers only). Please don't ask for credit, banks do that, we fix computers.
Details

Category: Woolrych Computer Services Ltd
At Woolrych Computer Services Ltd we specialise in providing personal service to the home and small business user (& people who work from home), with reliable after sales care, offering a range of used and new PCs and accessories. We also supply and install CCTV equipment for buildings, mobile and remote locations
Woolrych Computer Services Ltd sells computers to the home and business user.
We provide computer maintenance and repair facilities either in your home, place of work or in our workshop.
We specialise in providing support to small businesses with no in-house capability and those who work from home as well as home users.
We are very good at making things work.
If we have learnt anything over the years it is that users just want their computer equipment to work. The problem is that there are too many opportunities for this not to happen. We are persistent and will continue with a job until we have found a solution. With so many different operating systems around there are always small anomalies that prevent a system from running as smoothly and reliably as one might wish.
To this end we trouble shoot. There are very few occasions where we have had to admit defeat.
If you have a problem then we will attempt to solve it.
Slow running computer, infested with viruses, trojans, malware or spyware? We can get it running properly.
We are also very good at making tablets, laptops and mobile phones talk to each other for mobile office work; so you can keep in touch anywhere.
We have a no fix no fee policy (terms and conditions apply)
We can also supply ADSL & FTTC Broadband connections.
Under the current Covid-19 global pandemic situation we are able to keep working. We have a safe area where equipment can be dropped off. It will then be sanitized for our safety. Once we have finished with it it will be re-sanitized for your safety. Quite a few issues can also be resolved by remote support services. Provided you have an internet connection we can take control of your computer (not phone or tablet) with your consent over a secure network. That way neither of us are exposed to any risks. The advantage is that you don't have to come to us and we don't have to come to you. If you need remote support please telephone first.